Beads, Balls & Bullets — Which Are Right for You?
As sex toys go, some fall much more neatly into categories than others. For example, rabbit-style vibrators all have a very iconic shape and clear use. However, some terms, such as 'love egg' are used a lot more broadly and inconsistently. Generally, it can apply to any sort of small, spherical or egg-shaped sex toy that is inserted into the body.
LELO offers a range of these sex toys, across a number of different categories. Below, we compare and contrast all our luxury Ben Wa balls, bullet vibrators and bead-style pleasure products.
HULA BEADS

What Is It?
HULA Beads are the perfect example of a remote-controlled pleasure product that can be enjoyed by couples or during solo play equally.
What Does It DO?
Their distinctive shape is not the only unique thing about HULA Beads. In addition to their vibration modes, they are also able to revolve and swirl. When fully inserted, they offer a delicious sensation against your G-spot, and of course, as they are remote-controlled, your partner can be the one making your body dance. The rounded head also make HULA Beads suitable for external play, as they provide broader vibrating clitoral stimulation.
LYLA 2
What Is It?: LYLA 2 is a remote-controlled bullet that can provide pinpoint external stimulation, or used internally.
What Does It DO?  LYLA 2 is no ordinary bullet. With its SenseMotion remote, your partner can control the sensations you feel within with just a tilt of their wrist, opening all sorts of exciting possibilities for a daring night out. Of course, it can also be used externally, with the elegantly pointed tip lending itself to more precise vibrations on the clitoris.
LUNA SMART BEAD
What Is It? LUNA Smart Bead is an intimate personal trainer that responds to your body's every squeeze.
What Does It DO? LUNA Smart Bead is a mix of business and pleasure. When you turn it on and insert it, you will feel a series of vibrations. When you feel a vibration, you squeeze around LUNA Smart Bead and then relax when it stops. It has the ability to gauge how hard you are squeezing, and design an increasingly rewarding training program just for you! Besides preparing you for stronger orgasms, you are also rewarded at the end of your training session with the option of beginning a continuous vibration 'pleasure mode.'
LUNA BEADS
What Is It? LUNA Beads  are Ben Wa balls that contain an inner weight, which moves with the movement of your body.
What Does It DO? The benefit of LUNA Beads is two-fold: when inserted, your body will naturally squeeze around them to keep them in place. This serves as a mini intimate work out which has been shown to help women who want stronger, more consistent orgasms.
LELO's LUNA Beads  come in both Classic and Mini, which while they vary in size, both come with two 28 gram beads and two 37 gram beads, which can be used by themselves or in different combinations as you become stronger.
For some women, the sensation of the inner weight swirling with your movements as you go about your daily tasks also causes a very pleasurable sensation. For those more interested in the arousing effect of ben wa balls, LELO also offers LUNA Beads Noir (two 37 gram beads) and the LUNA Beads Luxe (two 47 gram beads) for a decadent yet discreet pleasure that will be your little secret.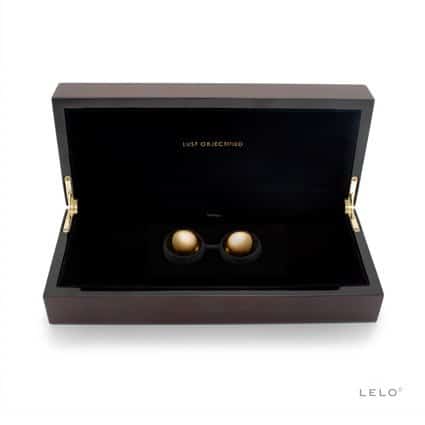 CONCLUSION
We hope that has helped clear up some of the confusion about the differences between beads, balls, and bullets, as well as helped you decide which LELO is right for you.